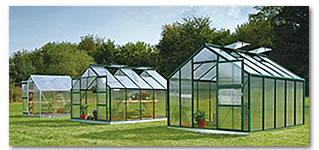 Juliana is the leading European manufacture of hobby greenhouses

Juliana is one of our experts favorite brands. We offer 4 styles of Juliana greenhouses - basic, compact, premium and gardener. One is sure to fit your growing needs. For quality, price and selection, You can't go wrong with a Juliana Greenhouse



Buying a greenhouse is a big investment for most people. It is therefore very important to get it right. Once built it is difficult to alter either its size or location. That is why you need to think very carefully about the type of greenhouse you will need both now and in the future.
Need help? - Our experts are here to help you pick out everything you need for what your growing and the climate you are in to get the most out of your new greenhouse. Call us 1 888 814-7531. We are real growers with hands on experience and enjoy sharing our love of gardening.
Picking the right greenhouse always comes down to your individual circumstances, and in the following we will give you some advice and ideas to help determine what is right for you.

Juliana Basic Greenhouse:
The Juliana Basic is the ideal greenhouse for the first time buyer or somebody with limited space in the garden. Even though small, you can optimize the space with a range of shelving options. Ideal for growing pot plants such as parsley, chives and dill. The 4 mm thick polycarbonate sheets not only keeps the warmth in during the night, but also protects the plants against the heat during the day. This means that the temperature is more even throughout the day in a greenhouse with polycarbonate than a greenhouse with glass and the yield is bigger.

Juliana Compact Greenhouse:
Greenhouse gardening is one of the best pastimes we can think of and it need not be expensive. By choosing the popular Juliana Compact model you can have great quality and a low price. The Compact models are especially suited to people who just want to grow a few of the more traditional plants such as tomatoes, cucumbers and peppers.
Juliana Compact Plus:
If you want to grow a variety of plants and have a little table and chair in the greenhouse, you should certainly consider choosing one of the Juliana Compact Plus models. Compact Plus is 9 - 11 inches wider than other comparable greenhouses in this price bracket. This means that you get more effective growing space relative to your walking area. You can also grow flowers like hibiscus, hortensia, tagetes and passionflowers, which normally do not like the cold northern climate.
Juliana Premium Greenhouse Kit:
The Juliana Premium greenhouse is unique in both its design and construction. The extra space found in this greenhouse being a hallmark of its quality. The very strong profiles make this range extra robust. Note the 2 1/2' wide, strong stable-type door with lock, which you will only find on professional level greenhouses. This stable-door allows for the warm air to escape without a draft at the bottom of the greenhouse, which could cause damage to sensitive plants. At the same time it keeps pets, children and animals out. The Premium has extra overall height which gives more space for the grower working in the greenhouse and plenty of room for the plants to grow in height. You can also place a small table and a couple of chairs in the greenhouse and enjoy the early spring and the late summer. The Premium is available with millfinish or green powder coated aluminum profiles.
Juliana Gardener Greenhouse Kit:
For those who require a larger growing space, farmers, small market gardeners and schools we have made the Juliana Gardener series in sizes from 16 - 65 feet long. With the Juliana Gardener you get the opportunity to let your creativity loose. You can grow a whole variety of plants and flowers. It is possible to divide the Gardener into a cold and warm greenhouse by using an interior wall. Tomato plants like to grow where it is cold and dry, where as cucumbers prefer it warm and moist. Similarly other plants and flowers all have different growing needs. Why not try growing more exciting plants such as orchids and cactus.
---
Size and purpose:
What are you going to use your greenhouse for? If you just want to grow a few tomatoes and cucumbers, you will only need a small greenhouse. Even a small lean-too will be enough for a small family. By watering and fertilizing your plants properly you will have a good yield.
If you want to grow a wider variety of plants however, or where greenhouse gardening is a serious hobby, your greenhouse may be too small. A larger greenhouse offers you more growing possibilities. Space is particularly important for reducing the risk of pests and diseases. Lettuce is more crispy when grown in a greenhouse. You can also grow flowers for the garden.
You will quickly realize that the more interested you become in greenhouse gardening, the more you will seek out exciting plants to grow.


The Excitement of Owning a Greenhouse
There are many reasons that people dream of owning a greenhouse; starting flowers and vegetables from seed, over-wintering your favorite plants, protecting your delicate tropical plants, having fresh fruits and vegetables year-round or just for a place to relax and enjoy an environment that you have created.
Your greenhouse can meet all of these needs plus give you the sense of pride and accomplishment that comes from growing plants or adding to the beauty of your garden and landscape.
A greenhouse lets you create an environment you control for optimal lighting and humidity levels which allows you to store bulbs and plants for the winter and makes a great place to propagate new plants.
First you'll need to decide which greenhouse will best suit your needs.The Juliana line offers six different categories: Season Extenders, Starter Series, Hobbyist Series, Semi-Professional Series, Professional Series and the Specialty Series. Let us be your guide to help you find the right greenhouse to meet all of your growing needs.

What to Look for When Buying a Greenhouse

Framing
Greenhouse gardening has become so popular that the same materials a professional nursery would use are now available for the home greenhouse. Aluminum framing is the most popular greenhouse choice because it is maintenance free, lightweight, easy to work with and it withstands high winds and heavy snowfalls. Aluminum framed greenhouses from Juliana are now available in the traditional mill finish or an attractive green powder coat finish.

Glazing Material
The best glazing material available is polycarbonate and it has numerous advantages. Available in 4, 6 and 10mm thickness, polycarbonate used in a Juliana greenhouse is a twin wall construction with air channels which creates the same insulating effect as a thermo window, without the high cost and maintenance of glass. The insulation promotes a more even temperature in the greenhouse which provides better growing conditions for the plants. Our polycarbonate also has a UV coating to prevent wear and is virtually unbreakable – even against baseballs, rocks and hail.


Anchoring The Greenhouse

Foundation
All greenhouses must be attached to a base or foundation. An optional galvanized steel base is available for all our greenhouse models. Another option is to use standard 6" x 6" landscape timbers as a foundation, which you may also want to anchor. Loose gravel, wood chips, brick or the bare ground are all nice flooring options for your greenhouse.